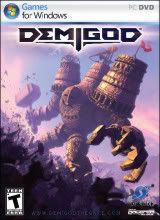 Title: Demigod
Developer/Publisher: Gas Powered Games / Stardock
Platform: PC
Release Date: 04/14/2009
Number of Players: 1, 10 online
Demigod is an RPG-fighter/strategy for the PC which allows you to play as one of eight characters, all of whom have their own unique play style and attacks. The game is heavily focused on multiplayer, but it's been having some issues online. But let's focus on what the game is all about.