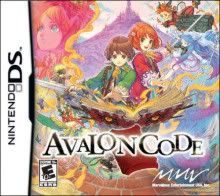 Title: Avalon Code
Developer/Publisher: Matrix Software / Marvelous Entertainment and Xseed Games
Platform: Nintendo DS
Release Date: 03/10/2009
Number of Players: 1
Avalon Code is an action/RPG for the Nintendo DS that focuses on a mystical book and the ability to alter items via codes. You play a hero, destined to reinvent the world as you see fit. Currently, people are corrupt and sinister, and the powers at be have decided that the hero must be called on to recreate the world. Do you have it in you to decide what should stay and what should go?